<! -- Blog Post 1 -->
Posted: March 1, 2020 | Press
AMSINO CHINA DONATES 1 MILLION RMB IN MEDICAL PRODUCTS TO HELP FIGHT AGAINST CORONAVIRUS
FIGHT AGAINST CORONAVIRUS, AMSINO IN ACTION
Since the beginning of the COVID-19 viral outbreak, Amsino has actively joined in the fight against the coronavirus outbreak. Upholding its strong sense of social responsibilities and professionalism, Amsino has donated 1 million RMB in medical products directly to many hospitals in Wuhan, Hubei Province, Shanghai, and Jiangsu areas.
A COVID -19 Task Force led by Dr. Richard Ya Lee, Chairman and CEO of Amsino Medical Group was established on January 28. Under the principle of employee safety first, all 4 Amsino facilities in China have gradually resumed work, focusing on production of urgently needed infection control medical products helping the fight of Coronavirus in the front line. Amsino Medical (Shanghai) Co. Ltd. resumed production on February 8th. Amsino Healthcare (Shanghai) Co., Ltd. and Shanghai Regent Medical Technology Co., Ltd. resumed work on February 10th and Amsino Medical (Kunshan) Co. Ltd. resumed production on February 15th. In addition to medical product donations, Amsino Medical (Kunshan) Co. Ltd. has been providing free laboratory testing services since late January for supplies used in fighting and prevention of the virus.
Amsino facilities in the US have also actively involved in the fund-raising and donation programs to help China's fight against the virus. In addition to cash donations by the senior management team, the global procurement department of Amsino International based in California and Amsino Healthcare based in Chicago have been actively purchasing from various sources critically required surgical masks, face masks, face shields, protective gowns and other products urgently needed in China. They have surmounted the challenges faced in procurement, transportation to China, customs clearance, and delivery restrictions within China, striving to the best of their ability to deliver to the front line in fighting against the virus.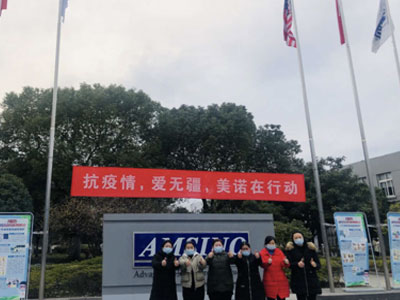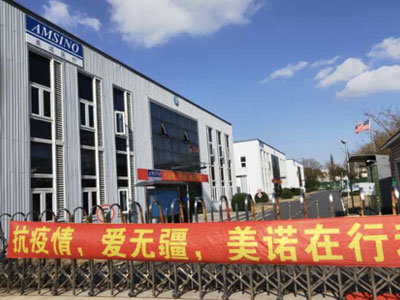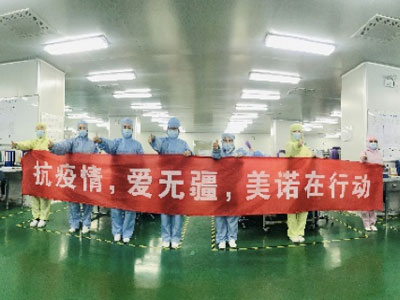 At the front line, with the opening of the respiratory tract of any infected patient, there is a real threat of infection to the medical personnel at the hospital ward level. With regard to such challenges, Amsino's medical product donation focused on its closed mucus suction system including Amsino Receptal ® and Saf-Gard™ closed suction catheters, tubing, and liners. Amsino Safgard™ system has a built-in, prefilled TCCA germicide vial that delivers a high concentration of chlorine disinfectant that can effectively inactivate viruses including: SARS-CoV, MERS-CoV, 2019-nCoV in patients respiratory track (Source: Coronavirus Infected Pneumonia Diagnosis and Treatment Plan (Trial Version 5)). In addition, Vac-Gard® shut-off valve in the system also prevents backflow of aerosols and fluids into the vacuum system further reducing the risk of contamination exposure to improve patients and caregivers' safety and protecting hospital environment. Concurrently, Amsino has donated its enteral feeding pumps and nutrition delivery products to help enhance and boost patient's immune system.
At this point, Amsino donated products have been shipped to and used in many hospitals in Wuhan, Hubei area, and in Shanghai. Among them, the main hospitals and institutions include:
Wuhan Lei Shen Shan Hospital
Union Medical College Hospital, Tongji Medical College, Huazhong University of Science & Technology
Zhongnan Hospital of Wuhan University
Guanggu Hospital Area, Tongji Hospital, Tongji Medical College, Huazhong University of Science & Technology
Third People's Hospital of Hubei Province
Wuhan Third Hospital
Wuhan Central Hospital
Wuhan Hanyang Hospital
Wuhan Puren Hospital
Wuhan Sixth Hospital
Wuhan Teenagers Development Foundation
Shanghai Public Health Clinical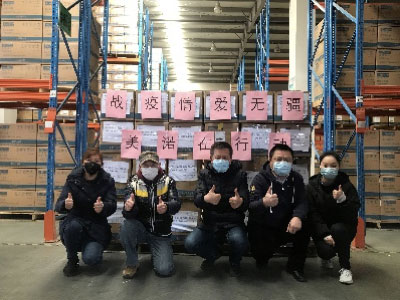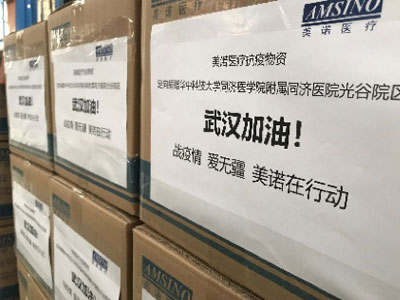 At the same time, Amsino Medical (Kunshan) Co., Ltd. has specially provided through Kunshan Red Cross to the hospitals and institutions in Kunshan where it was located. Donated products include imported N95 masks, imported eye shields, surgical face masks, and VC effervescent tablets. The following hospitals have received these donated products:
Kunshan Red Cross Society
Kunshan Emergency Center
4th People's Hospital of Kunshan City
4th People's Hospital of Kunshan City
Kunshan Mental Health Center
4th People's Hospital of Kunshan City
First People's Hospital of Kunshan
Kunshan Health Commission
Bailu City Administrative Office
Bacheng Town People's Government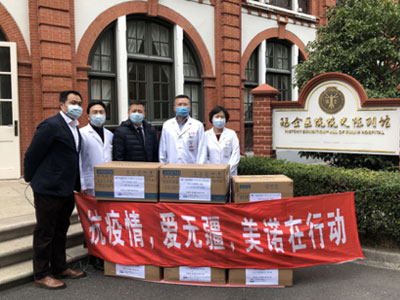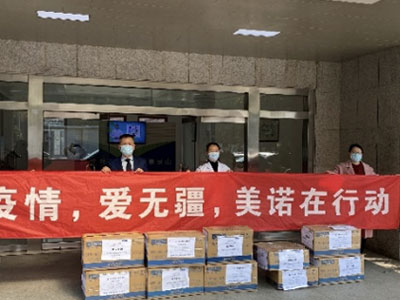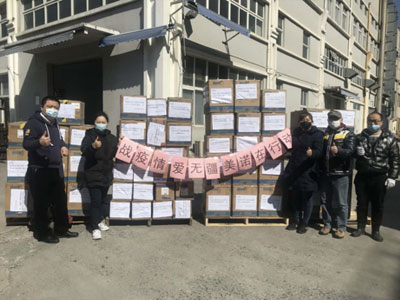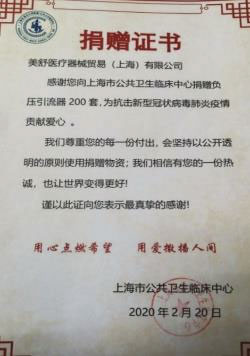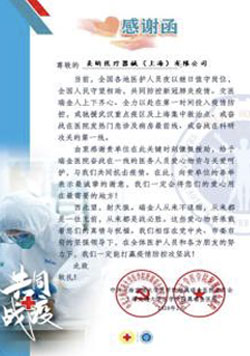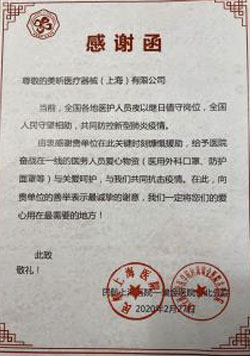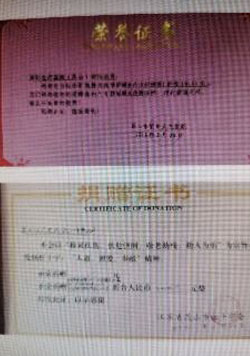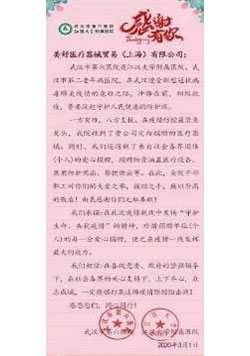 ---
Established in 1993 and headquartered in the U.S., Amsino develops, manufactures and markets medical devices that help improve the safety and efficacy of patient care under a portfolio of globally recognized Amsino brands.
The company operates several U.S. FDA and MDSAP qualified manufacturing, R&D, and distribution facilities globally under ISO13485:2016/MDSAP quality management system. Visit www.amsino.com for more information.